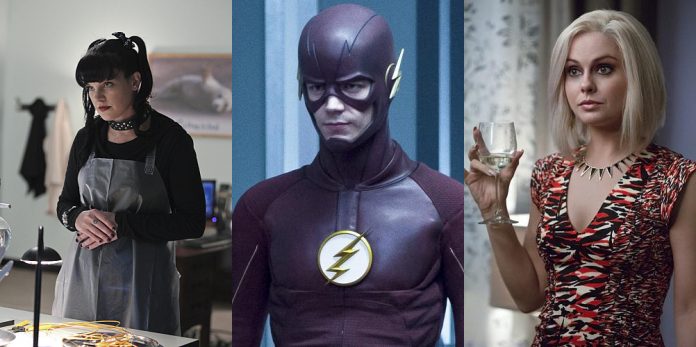 Quelle: TVLine
Während die meisten Serien in der aktuellen Saison unter deutlichen Zuschauerverlusten zu leiden haben, zeigen sich einige wenige Serien davon weitgehend unberührt und eine davon ist "Navy CIS". Es gebührt der Serie viel Respekt dafür, dass sie nach reinen Zuschauerzahlen (wenn auch, aufgrund der im Schnitt eher älteren Fans, nicht in der Zielgruppe 18-49), auch in der 13. Season immer noch die meistgesehene Serie im US-Network-Fernsehen ist. Gegenüber der letzten Staffel zeigt sie sich außerdem außerordentlich stabil. Die fünfte Folge der 13. Staffel legte um 7% gegenüber der Vorwoche zu und erreichte 17,2 Millionen Zuschauer. Auch in der Zielgruppe der 18-49-Jährigen gab es einen Zuwachs auf 2,2 Millionen. Damit lag die Serie absolut auf dem Schnitt der vergangenen Staffel. Die im Anschluss gezeigte neue Folge von "NCIS: New Orleans" legte ebenfalls leicht zu und kam auf 13 Millionen Zuschauer, von denen 1,6 Millionen auf die Zielgruppe entfielen. Auf dem Vorwochenniveau blieb die Serienadaption "Limitless" mit 7,9 Millionen.
Die FOX-Serien "Grandfathered", "The Grinder" und "Scream Queens" legten nach Zuschauern allesamt zwischen 5% und 13% zu und erreichten jeweils 3,3 Millionen, 2,9 Millionen und 2,6 Millionen. In der Zielgruppe konnte jedoch keine der Serien mehr als eine Million Zuschauer für sich begeistern, sodass die Quoten insgesamt weiterhin recht schwach und die Zukunft der Serie in der Schwebe blieben.
Nach dem Quotentief in der vergangenen Woche, konnte sich "Marvel's Agents of S.H.I.E.L.D" am Dienstag marginal verbessern und erreichte 3,9 Millionen Zuschauer sowie 1,5 Millionen in der werberelevanten Zielgruppe.
Weiterhin sehr stabil und deutlich über dem Senderschnitt läuft es bei The CW für "The Flash". Die dritte Folge der zweiten Staffel lockte 3,5 Millionen Zuschauer, davon 1,4 Millionen in der Zielgruppe. Die Zahlen waren auf dem Niveau des Staffelstarts. "iZombie" stabilisierte sich nach dem Rückgang vergangene Woche, stieg um 6% und erreichte 1,3 Millionen Zuschauer. In der Zielgruppe waren es 500,000. Das sind zwar keine tollen Zahlen, doch eine Verlängerung sollte angesichts der allgemeinen Quotensituation des Senders sicher sein.
Zu guter Letzt verbesserte sich die neuste Episode von "Chicago Fire" nach Gesamtzuschauern ein wenig gegenüber dem Staffelstart auf 7,6 Millionen, baute jedoch in der Zielgruppe um 11% auf 1,6 Millionen ab.