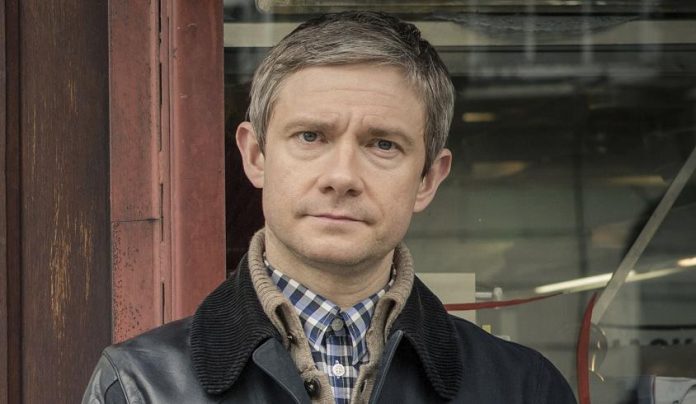 Martin Freeman in "Sherlock" © BBC
Quelle: Marvel Studios
Die großen Comicbuchverfilmungen von Marvel und DC verpflichten einen Star nach dem anderen. Spätestens nachdem Robert Redford in The Return of the First Avenger mitgespielt hat, war klar, dass Marvel/Disney wirklich jeden bekommen könnten. Bald wird es einfacher sein, die berühmten Schauspieler aufzulisten, die noch in keiner großen Comicverfilmung mitgespielt haben als welche, die es bereits taten. Der Gedanke kam mir, als ich Marvels Pressemitteilung gelesen habe, laut der der "Sherlock"-Star Martin Freeman für eine Rolle im dritten Captain America verpflichtet wurde. Er wird Teil eines bereits großen Ensembles, zu dem u. a. Chris Evans, Anthony Mackie, Scarlett Johansson, Jeremy Renner, Robert Downey Jr., Daniel Brühl und Chadwick Boseman gehören und doch er wird sicherlich nicht der letzte angekündigte Name für die Fortsetzung sein. So wissen wir beispielsweise noch nicht, wer den neuen Spider-Man spielen wird, der in Captain America: Civil War höchstwahrscheinlich seinen ersten Auftritt haben wird.
Freeman ist nicht der einzige MCU-Neuzugang, der in Civil War vorgestellt werden wird, doch während wir bereits wissen, dass Chadwick Boseman den Superhelden Black Panther und Daniel Brühl den Bösewicht Baron Helmut Zemo spielen werden, liegen zu Martin Freemans Figur keine Details vor. Welches Geheimnis hütet Marvel da? Laut einem Bericht von Latino Review könnte Freeman die Figur Everett Ross spielen, einen Agenten der Regierung, der zwischen den Avengers, S.H.I.E.L.D. und der Regierung vermittelt. Aufgrund seines großen Wissens über das fiktive afrikanische Land Wakanda, würde seine Rolle im Solo-Flm von Black Panther ausgebaut werden. Das klingt, ehrlich gesagt, nicht sonderlich spektakulär. Würde Marvel in dem Fall die Information trotzdem geheimhalten? Da bin ich mir nicht so sicher.
Viele "Sherlock"-Fans werden sich natürlich fragen, ob Freeman auf der Leinwand auf seinen "Sherlock"-Buddy Benedict Cumberbatch treffen wird, der bekanntlich den Superhelden Doctor Strange für Marvel spielen wird. Wenn, dann wird es vermutlich nicht in Captain America: Civil War passieren, denn darin ist kein Auftritt von Stephen Strange vorgesehen. Das MCU ist nach Der Hobbit schon das zweite Franchise, bei dem Freeman und Cumberbatch mitmachen, wobei Cumberbatch im letzteren zwar zu hören (als Drache Smaug und als Necromancer), aber nicht zu sehen war. Die beiden sind wohl auch im Kino unzertrennlich.
Captain America: Civil War startet am 5.05.2016 in den deutschen Kinos (selbstverständlich in 3D) und leitet Marvels Phase Drei ein, zu der außerdem Filme wie Guardians of the Galaxy 2, Black Panther und Doctor Strange gehören.