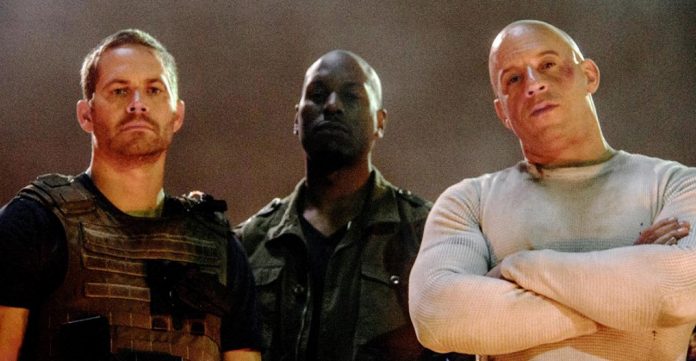 Quelle: Universal Pictures
Ende letzten Monats gingen die Dreharbeiten zu Fast & Furious 7 nach einer fast viermonatigen Pause in Folge von Paul Walkers tragischem Tod weiter. Kurz davor wurde bekannt, wie mit den verbleibenden Szenen von Walker, die er vor seinem Tod nicht zu Ende drehen konnte, umgegangen wird – mit einer Kombination aus modernsten CGI-Effekten und bis zu vier Body-Doubles. In einer Erklärung an die Fans (unten) bestätigte Universal jetzt das Gerücht, das bereits seit Dezember als mögliche Lösung im Internet herumgeisterte – Paul Walkers Brüder Cody und Caleb werden bei der Produktion einspringen, um die Szenen abzudrehen. Mit ihrer Hilfe sollen die kleinen Lücken gefüllt werden, die noch fehlen, um seinen Handlungsbogen zu Ende zu bringen. Universal verspicht, dass wir in dem Film eine der besten Performances von Walker zu sehen bekommen werden. Wie ebenfalls früher bekannt wurde, wird Fast & Furious 7 den Charakter von Walker, Brian O'Conner, zur Ruhe setzen lassen, ohne ihn jedoch zu töten. Die Pläne sehen vor, dass das Franchise ohne ihn weitergehen wird. Zumindest vor Walkers Tod waren mindestens zwei weitere Filme angedacht.
A Note to the Fans of FAST & FURIOUS

The FAST & FURIOUS saga is about family. The characters are connected by the bond of family, and it is how all of us who have worked together for more than thirteen years feel about each other. It certainly defines how we feel about our fans.

Our family experienced an unthinkable shock in November. We had to take time to grieve Paul, the brother we love and lost, and to figure out if we should move on with our film.

We came together and all felt the only choice was to continue. We believe our fans want that, and we believe Paul would want that too. Paul had already shot his dramatic scenes and most of his action for FAST & FURIOUS 7, and it's among the strongest work of his career.

We have resumed shooting and now welcome Paul's brothers, Caleb and Cody, into our FAST family. Caleb and Cody are helping us complete some remaining action for their brother and fill in small gaps left in production. Having them on set has made us all feel that Paul is with us too.

We are just under a year away from the release of FAST & FURIOUS 7, and this film is the most important we've ever done together. It will allow the character of Brian O'Conner to live on and let us celebrate Paul in his most defining role.

We wanted to take a moment to speak to our fans directly and thank you for the love and support you always show us as we resume our work.