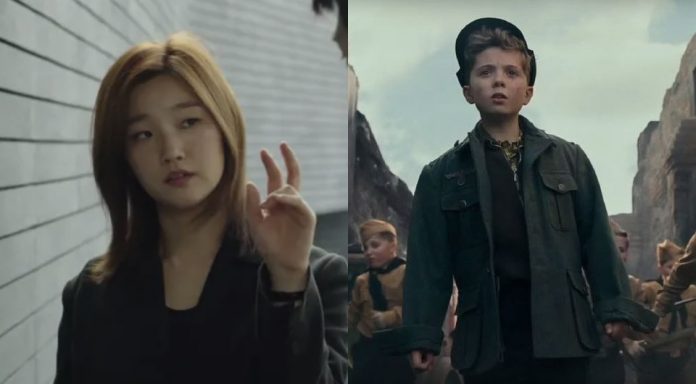 Links: Park So-dam in Parasite © 2019 Koch Films
Rechts: Roman Griffin Davis in Jojo Rabbit © 2019 Searchlight Pictures
Quelle: Writers Guild of America
Alle vier großen Filmindustrie-Gewerkschaften haben gesprochen und lassen das Rennen um den "Bester Film"-Oscar bis zum Schluss spannend bleiben. Nachdem die Produzenten der PGA und die Regisseure der DGA Sam Mendes' meisterhaft inszenierten Kriegsfilm 1917 prämiert haben und die Schauspielergewerkschaft SAG den wichtigen Ensemble-Preis an Parasite (und damit erstmals an einen nicht-englischsprachigen Film) verliehen hat, setzte Parasite diesen Siegeszug auch bei der Writers Guild of America (WGA) fort. Die Gewerkschaft der Drehbuchautoren prämierte Bong Joon-hos genialen Genremix für sein Originaldrehbuch sowie Taika Waititis Hitler-Satire Jojo Rabbit für das beste adaptierte Drehbuch.
Parasite ist der erste fremdsprachige Film in der Geschichte der WGA Awards, der gewinnen konnte. Allerdings muss man dazu anmerken, dass sein größter Originaldrehbuch-Konkurrent, Quentin Tarantinos Once Upon a Time in Hollywood, diesmal nicht dabei war. Die WGA schließt jedes Jahr eine Reihe von Drehbüchern aus, die nicht nach sehr spezifischen Regularien der Gewerkschaft erstellt worden sind. Dazu gehören stets Tarantinos Drehbücher. Außerdem wurden Lulu Wangs The Farewell, Pedro Almodóvars Leid und Herrlichkeit, Trey Edward Shults' Waves, Ari Asters Midsommar, alle Animationsfilme und diverse andere Skripts für unzulässig erklärt. Anthony McCartens Drehbuch zu Die zwei Päpste wurde hier wiederum als ein Originaldrehbuch kategorisiert, während es bei den Oscars als adaptiertes Drehbuch im Rennen ist.
Tarantinos Once Upon a Time in Hollywood gewann die Drehbuchpreise bei den Golden Globes und den Critics' Choice Awards gegen Parasite, Parasite setzte sich jedoch bei den BAFTAs durch. Bei den Oscars wird es ein Kopf-an-Kopf-Rennen zwischen den beiden sein. Die Tatsache jedoch, dass Tarantino bereits zwei Drehbuch-Oscars hat, könnte sich zu seinem Nachteil auswirken. Auf jeden Fall zeigen Parasites Siege bei der SAG, der WGA und dem Cutter-Verband, dass der Film ein ernstzunehmender Konkurrent für 1917 in der Hauptkategorie ist, auch wenn Mendes' Film aktuell die Nase vorne hat.
Waitits Drehbuch zu Jojo Rabbit setzte sich bei der WGA wiederum gegen Steven Zaillians The Irishman und Greta Gerwigs Little Women durch. Auch bei den BAFTAs triumphierte er. Nichtsdestotrotz könnten die Academy Gerwig die Auszeichnung geben, als "Wiedergutmachung" für ihre fehlende Regie-Nominierung.
Auch die bestgeschriebenen Serien des letzten Jahres wurden von der WGA ausgezeichnet und hier gehörten u. a. "Succession" und "Chernobyl" zu den großen Siegern, die zuletzt nahezu alle für sie infrage kommenden Preise abgeräumt haben.
Unten findet Ihr alle diesjährigen WGA-Nominierungen und die Sieger in grün:
Kino
Bestes Originaldrehbuch
Bong Joon-ho & Han Jin-won (Parasite)
Sam Mendes & Krysty Wilson-Cairns (1917)
Emily Halpern, Sarah Haskins, Susanna Fogel & Katie Silberman (Booksmart)
Noah Baumbach (Marriage Story)
Rian Johnson (Knives Out)
Bestes adaptiertes Drehbuch
Steven Zaillian (The Irishman)
Micah Fitzerman-Blue & Noah Harpster (Der wunderbare Mr. Rogers)
Todd Phillips & Scott Silver (Joker)
Taika Waititi (Jojo Rabbit)
Greta Gerwig (Little Women)
Bestes Drehbuch für einen Dokumentarfilm
Alex Gibney (Citizen K)
Alex Gibney (The Inventor: Out for Blood in Silicon Valley)
Mark Jonathan Harris (Foster)
Robert Seidman & Oren Rudavsky (Joseph Pulitzer: The Voice or People)
Lauren Greenfield (The Kingmaker)
Fernsehen
Bestes Drehbuch bei einer Dramaserie

Jesse Armstrong, Alice Birch, Jon Brown, Jonathan Glatzer, Cord Jefferson, Mary Laws, Lucy Prebble, Georgia Pritchett, Tony Roche, Gary Shteyngart, Susan Soon He Stanton & Will Tracy ("Succession")
James Graham, David Hancock & Peter Morgan ("The Crown")
Marissa Jo Cerar, Yahlin Chang, Nina Fiore, Dorothy Fortenberry, Jacy Heldrich, John Herrera, Lynn Renee Maxcy, Bruce Miller, Kira Snyder & Eric Tuchman ("The Handmaid's Tale")
Pamela Cederquist, Joshua Donen, Marcus Gardley, Shaun Grant, Liz Hannah, Phillip Howze, Jason Johnson, Doug Jung, Colin Louro, Alex Metcalf, Courtenay Miles, Dominic Orlando, Joe Penhall & Ruby Rae Spiegel ("Mindhunter")
Lila Byock, Nick Cuse, Christal Henry, Branden Jacobs-Jenkins, Cord Jefferson, Jeff Jensen, Claire Kiechel, Damon Lindelof, Stacy Osei-Kuffour, Tom Spezialy & Carly Wray ("Watchmen")
Bestes Drehbuch bei einer Comedyserie

Kate Fodor, Noah Gardenswartz, Daniel Goldfarb, Alison Leiby, Daniel Palladino, Sono Patel, Amy Sherman-Palladino & Jordan Temple ("The Marvelous Mrs. Maisel")
Jeff Chan, Maya Erskine, Anna Konkle, Gabe Liedman, Stacy Osei-Kuffour, Andrew Rhymer, Jessica Watson & Sam Zvibleman ("PEN15")
Alec Berg, Duffy Boudreau, Bill Hader, Emily Heller, Jason Kim, Taofik Kolade & Elizabeth Sarnoff ("Barry")
Jocelyn Bioh, Flora Birnbaum, Cirocco Dunlap, Leslye Headland, Natasha Lyonne, Amy Poehler, Tami Sagher, and Allison Silverman ("Matrjoschka")
Gabrielle Allan-Greenberg, Rachel Axler, Emilia Barrosse, Ted Cohen, Jennifer Crittenden, Alex Gregory, Steve Hely, Peter Huyck, Dan O'Keefe, Erik Kenward, Billy Kimball, David Mandel, Ian Maxtone-Graham, Dan Mintz, Lew Morton, Georgia Pritchett, and Leila Strachan ("Veep – Die Vizepräsidentin")
Bestes Drehbuch bei einer neuen Serie

Jeff Chan, Maya Erskine, Anna Konkle, Gabe Liedman, Stacy Osei-Kuffour, Andrew Rhymer, Jessica Watson & Sam Zvibleman ("PEN15")
Lila Byock, Nick Cuse, Christal Henry, Branden Jacobs-Jenkins, Cord Jefferson, Jeff Jensen, Claire Kiechel, Damon Lindelof, Stacy Osei-Kuffour, Tom Spezialy & Carly Wray ("Watchmen")
Jocelyn Bioh, Flora Birnbaum, Cirocco Dunlap, Leslye Headland, Natasha Lyonne, Amy Poehler, Tami Sagher, and Allison Silverman ("Matrjoschka")
Rebecca Addelman, Njeri Brown, Liz Feldman, Kelly Hutchinson, Anthony King, Emma Rathbone, Kate Robin & Abe Sylvia ("Dead to Me")
Jesse Armstrong, Sam Bain, Jemaine Clement, Josh Lieb, Iain Morris, Stefani Robinson, Duncan Sarkies, Marika Sawyer, Tom Scharpling, Paul Simms & Taika Waititi ("What We Do in the Shadows")
Bestes Originaldrehbuch bei einem TV-Film oder einer Miniserie

Craig Mazin ("Chernobyl")
Max Borenstein, Alessandra DiMona, Shannon Goss, Steven Hanna, Naomi Iizuka, Benjamin Klein, Danielle Roderick, Tony Tost, and Alexander Woo ("The Terror: Infamy")
Tom Flynn (Togo)
Alessandra DiMona, Graham Gordy, Gabriel Hobson, David Milch & Nic Pizzolatto ("True Detective")
Bestes adaptiertes Drehbuch bei einem TV-Film oder einer Miniserie
Debora Cahn, Joel Fields, Ike Holter, Thomas Kail, Steven Levenson, Charlotte Stoudt &  Tracey Scott Wilson ("Fosse/Verdon")
Vince Gilligan (El Camino: Ein "Breaking Bad"-Film)
John Harrington Bland, Laura Eason, Tom McCarthy, Alex Metcalf, Gabriel Sherman & Jennifer Stahl ("The Loudest Voice")
Michael Chabon, Susannah Grant, Becky Mode, Jennifer Schuur & Ayelet Waldman ("Unbelievable")
___________________________________________________________