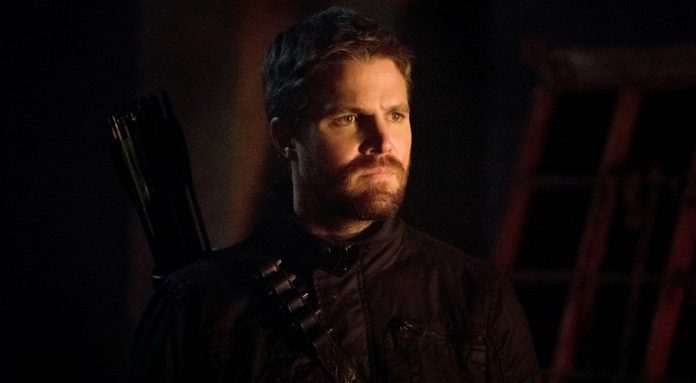 Stephen Amell in "Arrow" © 2019 The CW Network, LLC. All Rights Reserved
Quelle: Marc Guggenheim Twitter
Vor sieben Jahren, auf dem damaligen Höhepunkt des Comicverfilmungs-Hypes, legte The CW den Grundstein für das größte und erfolgreichste Serienuniversum des Senders. Am 10. Oktober 2012 feierte "Arrow" Premiere, die Serie über den fünf Jahre verschollenen Milliardärserben Oliver Queen (Stephen Amell), der in seine Heimatstadt Starling City zurückkehrt und dort als maskierter Held mit Pfeil und Bogen das Gesetz in die eigene Hand nimmt. Mit 4,1 Millionen Zuschauern legte "Arrow" den zweiterfolgreichsten Serienstart des Senders nach "Vampire Diaries" hin.
In den darauffolgenden Jahren wurde "Arrow" zum Mittelpunkt des nach der Serie benannten Arrowverse. Der erste Ableger "The Flash" übertraf sogar den Erfolg der Mutterserie. "DC's Legends of Tomorrow", "Supergirl" (nach Übernahme von CBS) und kürzlich auch "Batwoman" folgten. Doch jetzt neigt sich die Zeit von Green Arrow dem Ende zu. Seit Oktober läuft die finale 8. "Arrow"-Staffel in den USA und Serien-Co-Schöpfer Marc Guggenheim sowie die aktuelle Showrunnerin Beth Schwartz haben den offiziellen Abschluss der Dreharbeiten bekanntgegeben:
This. pic.twitter.com/nHA40vTQoL

— Marc Guggenheim (@mguggenheim) November 13, 2019
Noch stehen sechs "Arrow"-Folgen der verkürzten letzten Season aus, darunter auch die Crossover-Episode als Teil des "Crisis on Infinite Earths"-Events. Nach dem Crossover kommen nächstes Jahr nur noch zwei weitere Folgen. Das Serienfinale mit dem Titel "Fadeout" wird am 28. Januar ausgestrahlt werden. Darin wird auch Emily Bett Rickards als Felicity zurückkehren, nachdem sie die Serie am Ende der siebten Staffel verlassen hat. Eine Woche davor wird als vorletzte Folge der Staffel der Backdoor-Pilot zum potenziellen weiteren Spin-Off "Green Arrow and the Canaries" gezeigt werden, in dem Katherine McNamara als Mia Smoak in die Fußstapfen ihres Vaters tritt. Juliana Harkavy und Katie Cassidy würden ihr in den Ableger ebenfalls folgen, falls dieser in Serie bestellt werden sollte.
Ob es nun zu diesem Spin-Off kommen wird oder nicht, das Erbe von "Arrow" wird noch lange weiterleben und das Arrowverse, das demnächst auch eine "Superman & Lois"-Serie bekommen könnte, wird nicht in absehbarer Zeit von den Fernsehbildschirmen verschwinden.
Unten findet Ihr die emotionalen Reaktionen einiger Darsteller auf das Ende der Dreharbeiten.
Long live Star City. 💚🏹💥 #ARROW #TheFinalBow #Olicity #MiaSmoak #Olicitybaby #ArrowFinale @stephenamell @CW_Arrow @ARROWwriters @ArrowProdOffice pic.twitter.com/en00eEnMkU

— Katherine McNamara (@Kat_McNamara) November 13, 2019