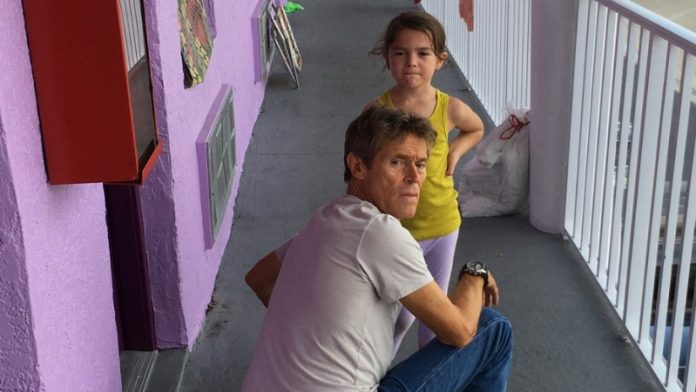 © 2017 A24
Quelle: SFFCC
Ein weiterer Filmkritikerverband hat die besten Leistungen von Filmschaffenden aus dem zu Ende neigenden Jahr gekürt. Der San Francisco Film Critics Circle (SFFCC) zeichnet sich meist durch eine Affinität gegenüber kleineren Independent-Produktionen aus. Letztes Jahr stellte Moonlight den Rekord von Sideways ein und erntete gleich sechs Auszeichnungen vom SFFCC. Dieses Jahr hatte der Verband keinen so eindeutigen Favoriten und kein Film erhielt mehr als zwei Nennungen.
Der Hauptpreis ging, wie schon bei den Filmkritikern von Toronto, an Sean Bakers White-Trash-Indie The Florida Project. Außerdem erhielt Willem Dafoe für den Film eine Auszeichnung als "Bester Nebendarsteller" und gilt weiterhin als heißester Kandidat für den Oscar in dieser Kategorie.
Der einzige weitere Film mit zwei Auszeichnungen war Guillermo del Toros Shape of Water, der für seine Regie und das Szenenbild prämiert wurde. Aber auch Oscarfavoriten wie Get Out, Call Me By Your Name und Lady Bird gingen nicht leer aus.
Besonders bemerkenswert ist die Auszeichnung von Andy Serkis als "Bester Hauptdarsteller" für seine herausragende Motion-Capture-Performance in Planet der Affen – Survival. Leider wird die Academy in ihrem Verständnis von schauspielerischen Darbietungen vermutlich noch nicht so weit fortgeschritten sein, aber es ist angenehm zu sehen, dass die Kritiker inzwischen bereit sind, solche Leistungen anzuerkennen.
Unten findet Ihr die komplette Liste von Nominierungen und Siegern (in grün) der diesjährigen SFFCC Awards:
Bester Film
Call Me By Your Name
The Florida Project
Get Out
Shape of Water – Das Flüstern des Wassers
Three Billboards Ouside Ebbing, Missouri
Beste Regie
Sean Baker (The Florifa Project)
Guillermo del Toro (Shape of Water – Das Flüstern des Wassers)
Christopher Nolan (Dunkirk)
Greta Gerwig (Lady Bird)
Jordan Peele (Get Out)
Bester Hauptdarsteller
Timothé Chalamet (Call Me By Your Name)
Daniel Kaluuya (Get Out)
James Franco (The Disaster Artist)
Andy Serkis (Planet der Affen – Survival)
Gary Oldman (Die dunkelste Stunde)
Beste Hauptdarstellerin
Annette Bening (Film Stars Don't Die in Liverool)
Saoirse Ronan (Lady Bird)
Frances McDormand (Three Billboards Outside Ebbing, Missouri)
Margot Robbie (I, Tonya)
Sally Hawkins (Shape of Water – Das Flüstern des Wassers)
Bester Nebendarsteller
Willem Dafoe (The Florida Project)
Armie Hammer (Call Me By Your Name)
Richard Jenkins (Shape of Water – Das Flüstern des Wassers)
Sam Rockwell (Three Billboards Outside Ebbing, Missouri)
Michael Stuhlbarg (Call Me By Your Name)
Beste Nebendarstellerin
Holly Hunter (The Big Sick)
Allison Janney (I, Tonya)
Lesley Manville (Der seidene Faden)
Laurie Metcalf (Lady Bird)
Melissa Leo (Novitiate)
Bestes Originaldrehbuch
Kumail Nanjiani & Emily V. Gordon (The Big Sick)
Guillermo del Toro & Vanessa Taylor (Shape of Water – Das Flüstern des Wassers)
Jordan Peele (Get Out)
Greta Gerwig (Lady Bird)
Martin McDonagh (Three Billboards Outside Ebbing, Missouri)
Bestes adaptiertes Drehbuch
Scott Neustadter & Michael H. Weber (the Disaster Artist)
James Ivory (Call Me By Your Name)
Brian Selznick (Wonderstruck)
Aaron Sorkin (Molly's Game)
Dee Rees & Virgil Williams (Mudbound)
Bester fremdsprachiger Film
120 BPM
Frantz
Eine fantastische Frau
Aus dem Nichts
The Square
Bester Dokumentarfilm
Brimstone & Glory
Dawson City: Frozen Time
City of Ghosts
Jane
Faces Places
Bester Animationsfilm
Coco
The Breadwinner
Loving Vincent
Your Name
The LEGO Batman Movie
Beste Kamera
Roger Deakins (Blade Runner 2049)
Hoyte Van Hoytema (Dunkirk)
Alexis Zabe (The Florida Project)
Dan Laustsen (Shape of Water – Das Flüstern des Wassers)
Vittorio Storaro (Wonder Wheel)
Bestes Szenenbild
Blade Runner 2049
Dunkirk
Der seidene Faden
Wonderstruck
Shape of Water – Das Flüstern des Wassers
Bester Schnitt
Baby Driver
Die Verlegerin
Blade Runner 2049
Dunkirk
Shape of Water – Das Flüstern des Wassers
Beste Filmmusik
Benjamin Wallfisch & Hans Zimmer (Blade Runner 2049)
Hans Zimmer (Dunkirk)
Jonny Greenwood (Der seidene Faden)
Alexandre Desplat (Shape of Water – Das Flüstern des Wassers)
Michael Giacchino (Planet der Affen – Suvival)