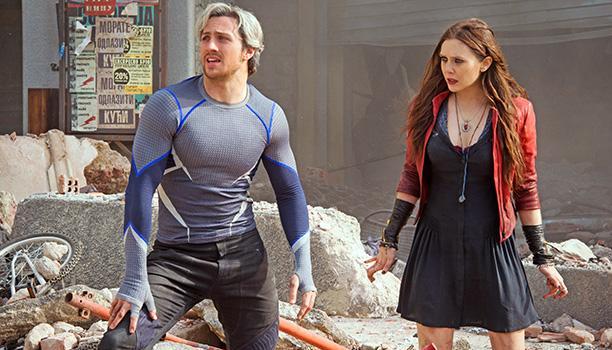 Quelle: Yahoo! Movies
Marvel hat neue Charakterposter zu den beiden, in der Post-Credits-Szene von The Return of the First Avenger eingeführten, Superhelden (oder Bösewichten?) veröffentlicht. Gemeint sind Scarlet Witch (Elizabeth Olsen) und Quicksilver (Aaron Taylor-Johnson), die auch als "The Twins" bezeichnet werden und in Avengers: Age of Ultron zumindest anfangs auf der Seite von Ultron, Tony Starks missglücktem Experiment, stehen. Auf den Postern – die Ihr unten begutachten könnt – sehen wir das Marvel-Pendant zum Flash, dessen andere Version von Evan Peters (ironischerweise Aaron Taylor-Johnsons Co-Star bei Kick-Ass) in X-Men – Zukunft ist Vergangenheit dargestellt wurde, und seine telepathische Schwester beim Praktizieren ihrer Superkräfte. Im Hintergrund befinden sich die Roboter-Schergen von Bösewicht Ultron. Aaron Taylor-Johnson und Elizabeth Olsen standen letztes Jahr bereits als Ehepaar in Gareth Edwards' Godzilla vor der Kamera.
Avengers: Age of Ultron erwartet uns voraussichtlich ab dem 23. April 2015 in den deutschen Kinos und erweitert das seit dem ersten Iron Man-Film bestehende Marvel Cinematic Universe um einen weiteren Teil. Diesmal muss sich die Superhelden-Gruppierung gegen die von Tony Stark erschaffene, künstliche Intelligenz Ultron zur Wehr setzen, nachdem dieser sich gegen seine Schöpfer stellt und jegliches Leben auf der Erde auslöschen will. Den neusten Trailer zum Film findet Ihr hier.